Two Pre-pasted wallpapers to choose from
PhotoTex 'S' High Tack Self-Adhesive Wall Fabric
Applications
PhotoTex easy apply white polyester fabric has a removable high tack adhesive and film release liner. Designed for easy application on indoor wall surfaces for posters and wall murals. The fabric applies very easily without leaving unsightly air bubbles and adheres to most painted wall finishes.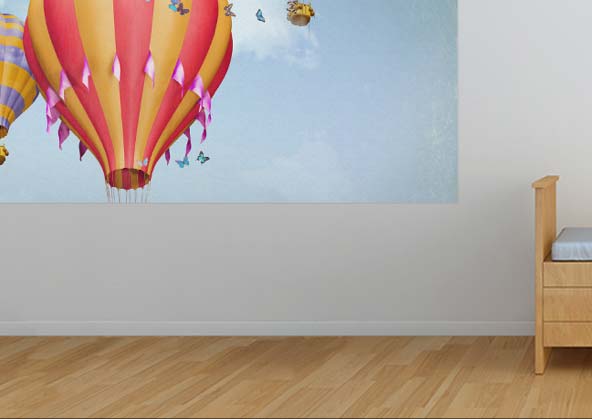 HP PVC‑free Wall Paper
Applications
Wall murals
Creative design applications

Benefits
PCV-free(4) alternative, easier to dispose of than most PVC-based substrates
Mold and mildew resistant(5)
Vivid color, high-definition detail
Ultra-smooth finish
Indoor display permanence up to 20 years(6)
Prepaste facilitates easy application
Strippable and easy to remove, with an HP warranty(2)
Flame resistant(7)
Carries the CE mark(8)
(1) Chemical analysis demonstrated elemental chlorine to be below 200 ppm. Presence of chlorine is attributed to residual chlorine used in the papermaking process, and not due to the presence of PVC. (2) GREENGUARD found HP PVC-free Wall Paper, which is designed with a breathable construction, to be mold and mildew resistant using test method GGTM.P040 and following the guidelines of ASTM D 6329. See http://www.greenguard.org/en/CertificationPrograms/listingprograms_copy1/CertificationPrograms_microbialProgram.aspx. No products are mold proof. It is uncertain that any material will resist mold or mildew indefinitely. (3) With HP Latex Inks. Display permanence rating for interior displays/away from direct sunlight, by HP Image Permanence Lab. See www.hp.com/go/supplies/printpermanence (4) HP PVC-free Wall Paper can be easily removed from the wall. Residual adhesive can be easily wiped clean with water and a sponge. Some warranty limitations apply, see the HP PVC‑free Wall Paper warranty statement at www.hp.com/go/HPMediaWarranties (5) Class A, B1, and EN 13501 approved fire certifications. (6) According to European Standard EN15102.